---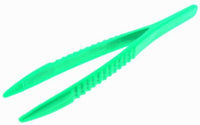 JEWELRY TOOL LIGHT WEIGHT PLASTIC TWEEZERS 5'' LONG
Description:-
This is new tweezer.
This is nice plastic tweezer
It comes in green color.
Length is 5''
Good grip to hold.
Non scratching
Its useful for jewelry Bead work and many other purpose.
Good Quality
Very Handy
If you have any question please leave us massage. We are there to help you.