---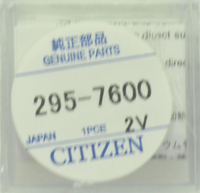 Sale
Citizen Watch Capacitor 295-7600, 1 Pack 1 Eco Drive Capacitor Original, Available for Bulk Order
This capacitor works of the following Citizen Watch movements: 0W50, 20876, 29561, 2957600, 302726Y, 3027-26Y, 310976, 470320, 560117, 650279, 8020-H23923, 8020-H23923 Y, 8023-S078326, 9020-5119, 9020-H21408TA, A930G, A980G, B020H, B020M, B023, B023-598730, B023-H30121, B023-H30121 Y, B023M, B023-S001820, B023-S008042, B023S022002, B023-S96087, B023-S96087 HSB, B023-Y70719, B023-Y70719 EHY, B030M, B030N, B031M, B033, B033 CTZ-B8041, B033-H27526K, B033M, B080M, BJ200009E, BO23-K005855-Y, BO33H27526K, BP5, CT295.76, CTZB8041, EB8XXX/EP4XXX, EcoDrive 8023-S078326, EP4, EP4XXX, EW5, EW5/BP5, EW8, EW803052N, EW8142, EW828209P, EW866453A, EW8790, EW8790 59A, EW879059A, EW8XXX, EW901054A, EW901259D, EW9215, EW9215-01E, EW993056Y, F780M, GN-O-S-4, H31675, H360,
Pulsar V110A
Seiko 1M20A
You can Call us for any support related to your watch battery or capacitor replacement
Please! Double Check your movement before placing your order, to find Citizen movement number see on the back of your watch case. It is usually writter in XXXX-YYYY format with ""XXXX"" being the movement number. Use this movement number as a reference to find the correct capacitor for your Citizen watch.
NOTE : No Exchange or Return on this Product.
Shipping Policy
All orders are processed the same day (if order is paid by 3pm ) or within 24 hours of confirmed payment, excluding weekends and holidays.
Please Note: We have a 2 days processing time for all orders. Orders processed on Friday are shipped out the next business day, usually on Monday.
We combine shipping for a small additional charge. Add all the items you want into your shopping cart and checkout with one combined shipping charge.
Payments made by PayPal are shipped to the confirmed address provided by PayPal.
USA domestic estimated shipping time frame:
USPS First Class Mail takes 3-10 days
USPS Priority Mail takes 3-5 days
International estimated shipping time frame
USPS International First Class Mail (estimated 5-45 days to receive depending on customs & shipping services in your country).
Sometimes you may be responsible for additional customs fees, duties, etc, imposed by your country.
"