---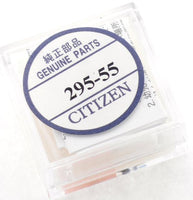 Sale
Citizen Watch Capacitor 295-5500, 1 Pack 1 Eco Drive Capacitor Original, Available for Bulk Order
This capacitor works of the following Citizen Watch movements: Citizen 0W50, 295 37, 29533, 29537, 295-3700, 5700, 8002-StW, 8119, 8119-H08549, 830075, 8411A, 8510A, 8511A, 8512A, 8515A, 8620, 8620A, 8625A, 8626A, 8627A, 8628A, 8629A, 8651, 8651M, 8N0088, A114A, A114-H17974K, A119, A119A, A119-H06622 K, A119-H08622, A119H08631K, A134A, A139A, A234A, A234-H10236, A239A, AP812054H, Caliber F910, E930M, EP704457D, F810M, F910, F910M, H08631, W 100, W100, WR50, EcoDrive F810-S005353, EcoDrive F810-S005353 HST, 8S11, 8T29, 2953700, A234, A234A, A239, H16134
You can Call us for any support related to your watch battery or capacitor replacement
Please! Double Check your movement before placing your order, to find Citizen movement number see on the back of your watch case. It is usually writter in XXXX-YYYY format with "XXXX" being the movement number. Use this movement number as a reference to find the correct capacitor for your Citizen watch.
NOTE : No Exchange or Return on this Product.